Stratosphere – Jimmie Lunceford & His Orchestra
Some words just connect with an era, take off as signifiers of everything modern and aspirational. In the early 1930s one such word was stratosphere. The first stratospheric flight was achieved in 1931 when Auguste Piccard and Charles Knipfer ascended in a balloon from Augsburg, Germany, reaching a height of over fifty-one thousand feet in a seventeen hour flight. By 1934 the word had entered the culture in a big way. That year Monogram released Lost in the Stratosphere starring Jimmy Cagney's brother William, animation pioneers Van Beuren Studios released Cubby's Stratosphere Flight and the Zenith radio company called their newest model the Zenith Stratosphere. That year also saw band leader Jimmie Lunceford, newly appointed as successor to Duke Ellington and Cab Calloway at the Cotton Club, release this catchy swing number of the same name evoking the Streamline Moderne spirit of the times.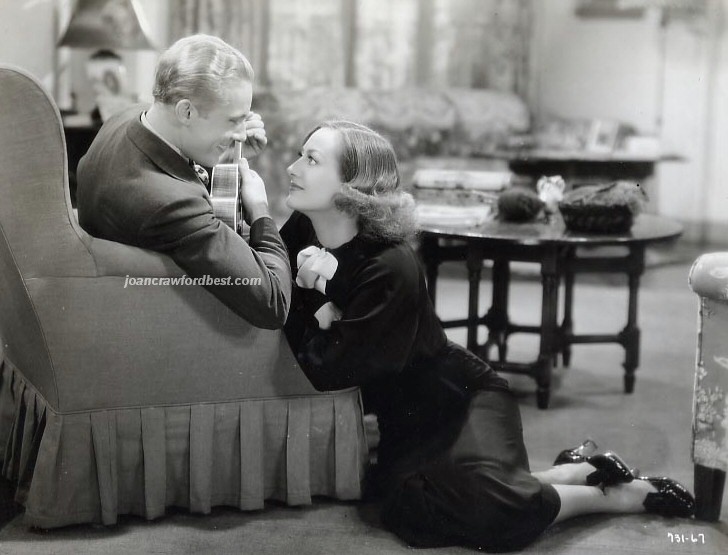 All I Do Is Dream of You – Gene Raymond
'You're every thought, you're every thing/You're every song I ever sing…' Aspiring to the stratosphere wasn't just confined to technology. Hearts were ready to ascend to the heavens too. In song at least, love had to be stratospheric or not at all. Probably best known for this crackerjack Debbie Reynolds-fronted all-girl version in Singin' in the Rain  All I Do Is Dream of You was originally written by Nacio Herb Brown and Arthur Freed (not uncoincidentally producer of Singin' in the Rain) for Joan Crawford vehicle Sadie McKee. Gene Raymond sings it, almost to himself, strumming his ukulele while Joan leans over him, all sexy in her pyjamas. There's a tired-but-happy bedroom intimacy to it, even if this is after the Hays Code so they can't be seen in bed together. Still there's that slow kiss and his deeply-felt 'yeah'. As she gazes at him from the bed somehow we know the song has been a post-Code coded message to the audience that this couple will get what's embodied in the music; the dream-high of post-coital bliss.
The Continental – Fred Astaire & Ginger Rogers
'Beautiful music, dangerous rhythm…' If the ecstatic was the heartbeat of the times, an escape from the grim realities of the Depression, then dance was its prime portal, with Fred and Ginger its Dionysian ideal. (They'd shot to fame the previous year in Flying Down to Rio with the sublimely stratospheric image of all those chorus girls dancing on bi-plane wings). From 1934's The Gay Divorcee, The Continental invokes the sexual allure of a sophisticated Neverland, a Europe made entirely of moonlight and style. The first winner of a Best Song Oscar (don't let that put you off), it was a massive hit that year spawning numerous other versions, including Leo Reisman and Lud Gluskin, but all those over-syrupy male voices were no match for Ginger's original. Effortless, flirtatious, building up to that moment when Fred can't take it any more and whisks her inside in a flourish of ecstatic dance. Did someone say sex? 'There's a rhythm in your heart and soul/A certain rhythm that you can't control/And you will do the continental all the time.'
The Very Thought of You – Ray Noble & His Orchestra (feat. Al Bowlly)
'I'm living in a kind of daydream/I'm happy as a king/And foolish though it may seem/To me that's everything…' Of course sex (and dance) weren't the era's only forms of music-related high. If the promise of sex was the subtext, it often came enveloped in a romantic yearning so pure physical contact seemed almost secondary to the sweet bliss of anticipation. From that lovely piano intro onwards, The Very Thought of You embodies this dream-longing. Just the idea of her inspires a reverie so sublime the universe is permeated with her presence. Beyond the stratosphere, even, the stars become her eyes. The music is drowsy and sweet, makes you close your eyes and sway. In the process it does that thing only music can do, really, takes something as ineffable as longing/desire/absence, and gives it form. Even if this ecstatic communion isn't real, there's always the music. The interplay between the piano and the brass has the lovely inevitability of lovers' encircling each other. Then Al's voice comes in and the seduction is complete.
Mississippi River Blues – Big Bill Broonzy
'Lord, I'm 'on get me a good girl/Or jump overboard an drown…' It wasn't all art-deco sex and aspirational yearning in 1934, though. The blues was still on the ground, light-fingered and dog-tired in the delta silt. Recorded in Chicago, March 23, 1934 Mississippi River Blues is all about losing that girl and the loneliness of the big river. Or maybe it's more than that. Maybe she's died, this good girl, gone to 'that other side' and the river, 'so long, deep and wide', is like the river Styx that separates the living from the dead. It works either way. She's gone and he can't get to her and all he wants to do is die. Like the best blues songs it's mood-struck, a captured state of mind that makes time stop while its playing, your time and his, evoking a sorrow still as felt now as it was eighty years ago, borne along on that fabulous guitar, each note sharp and clear, ringing out into the sky, repeating like river-boat bells in the night, like waves on the Mississippi shore.